A Burial at Sea is a way of having a
memorial and scattering the ashes
of a loved one at sea.


The Bachelor/Bachelorette parties we offer
are 100% customizable. Let us help you
customize it.


We offer a robust team building sailing
program to build camaraderie among
new or changing teams.
A Sailing Charter is an AWESOME Way to Spend the Day in Beautiful San Diego!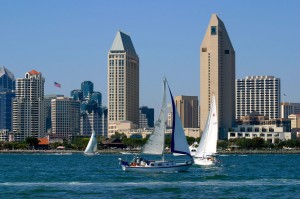 A sailing charter on San Diego Bay is an awesome way to spend an afternoon in beautiful San Diego. Whether you want to go on an exciting adventure where you take the wheel, or if you just prefer to stretch out in the San Diego sunshine with a trusty skipper at the helm, Pacific Sailing Charters has the perfect sailing experience for you. There's plenty of room to explore and everyone gets a chance at the wheel if they feel adventurous.
With over 20 years on beautiful San Diego Bay and the waters surrounding the San Diego harbor and the Coronado Islands, we excel at ensuring each sailing charter is a memory you will cherish for a lifetime. While sailing on San Diego bay, enjoy breathtaking views of Downtown San Diego, the naval base, the latest aircraft carriers, destroyers, and submarines, not to mention an abundance of sea life including Sea Lions, Dolphins and Whales.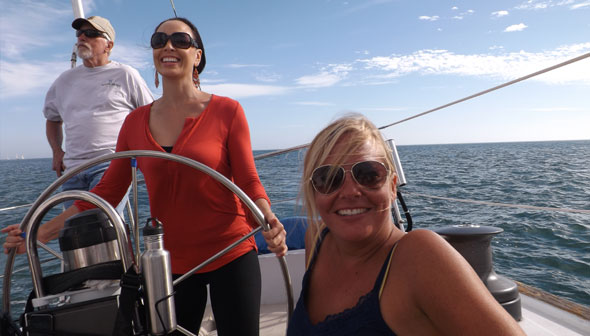 Whether you need a classic yacht for your corporate event, a sailing lesson, a whale watching experience for friends and family, or a burial at sea for a loved one, Pacific Sailing Charters can provide private parties, proposals, anniversaries, birthdays or a romantic sunset sail. Call Pacific Sailing Charters to plan your next adventure or event.
Pacific Sailing Charters features two types of yachts. Our sailboat is a classic restored 1973 Ranger 37 named Masquerade. This 37′ yacht was known as "The Rocket" back in her day due to her lightening speed and innovative hull design. Much heavier than traditional boats today, Masquerade will provide a steady, smooth sail no matter what the conditions. We have also added a sleek new 44′ Sea Ray Sundancer power yacht for your harbor excursions should you feel the need for speed.
If you want to leave the harbor, you can head past the tip of Point Loma toward the Coronado Islands . View the massive kelp beds, which lie just off of the Pt. Loma lighthouse. San Diego provides perfect sailing year-round, although in the winter and spring months, you'll want to bring a jacket or sweater after the sun goes down.
Advanced Purchase Required Cruises Sell out Quickly
Check Availability and Buy Tickets Online
Call Us Today: (619) 887-5443
info@pacificasailingcharters.com