Sailing Charters and Boat Tours in San Diego
About Our Day Sailing and Sunset Sailing Cruises and Charters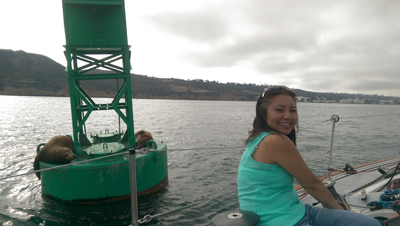 We feature several different types of sailing charters and boat tours. Our Sea Lion / Dolphin boat tours leave at 11am and again at 4pm every day. This is a spectacular sightseeing tour and one the whole family will enjoy.
Our sailing boat tours and boat charters allow you to enjoy breathtaking views of downtown while relaxing on your own private yacht. Take a sailing lesson and explore the naval base, aircraft carriers, destroyers, and submarines, not to mention an incredible abundance of sea life including Sea Lions, Dolphins and Whales.
You can't come to San Diego and NOT see the seals and sea lions.
Still not sure what the difference is?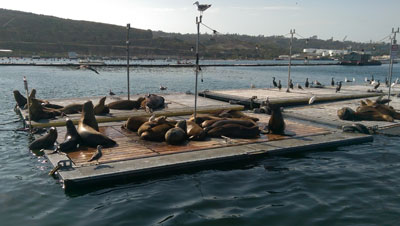 Here is the easiest explanation: If they have large flippers, bark loudly, you can see their ear flaps and they are brown, they are sea lions. If they have small flippers, you can't see their ear flaps, and they wriggle on their bellies when on land, it is a seal.
So BIG ears, flippers, and voice means sea lion (the word is bigger so use that to remember). Small means small flippers, small or no ear flaps, small to the ground since they wriggle on their belly equals seal – which is the smaller word.
Now when you go to San Diego to see the Seals or Sea Lions you will know which is which and will be able to impress your fellow visitors!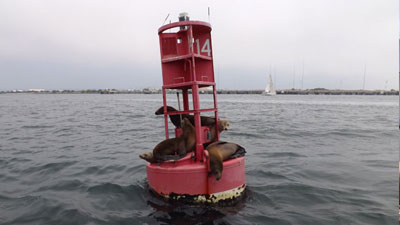 There are a couple of options for seeing the seals and sea lions in the San Diego area. The best decision you want to make is to see them on close up from a boat. You can get up close and personal with the seals without disturbing them from several of our boat tours.
I guarantee you will stand there for longer then you think just watching them lay there, then quickly wiggle out of the way as the water comes closer, or fight over an open spot. It was also really cool to watch the seals swim up out of the ocean and on to the bait barge only a couple of feet away from us on the boat. We even got to see some adorable pups!
It's basically impossible not to see at least a dozen seals or sea lions when you visit San Diego on this tour, plus the views are pretty amazing too!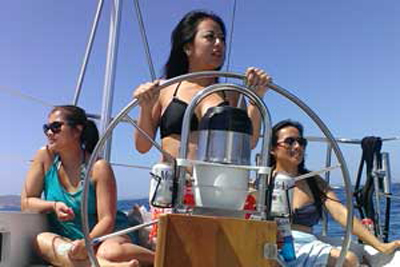 If you are looking for an opportunity to get out on the water when you are in San Diego, Pacifica Sailing Charters is hands down the best tour available. On this tour, you get on to a boat, head out towards the submarine base, and start your sightseeing tour of the bay. Everyone will enjoy the excitement of sailing around downtown San Diego and then right up to where the seals and sea lions live.
The tour guide teaches you all about the area and throws in some family friendly humor s you sail around downtown San Diego. The boat captain knows of a great place to take you where there are almost always seals and sea lions.
It does take time to get there. While you sail, enjoy incredible sights of downtown, the navy ships, and the submarine base located right next to where the seals and sea lions live.
The tour guide talks about all of the buildings and the history of the area. It was really fascinating and cool to hear. Everyone is also on the lookout for dolphins.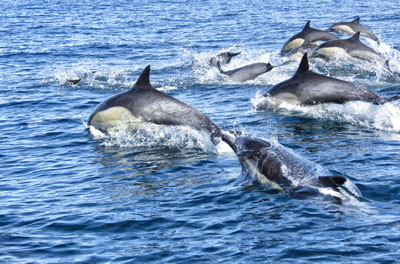 Once you reach the area where seals and sea lions normally hang out, the boat will sail within inches away to the platform where they are all sun bathe.
If you aren't on that side of the boat, never fear, because the boat will turn around so both sides get an awesome shot of the seals just hanging out.
It is a cool experience getting to see them while you were on a boat in the water and able to get super close to them! Plus you will learn a lot about San Diego.
Sailing with Pacifica Sailing Charters will make it a memorable trip and one your family will definitely remember.

About Our Sunset Sailing Cruises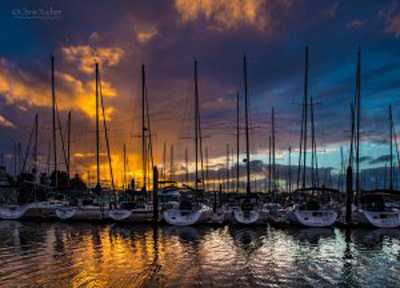 A sunset cruise in San Diego is second to none. Pacifica Sailing Charters offers an amazing Sail into the setting sun aboard one of several different sailboats, including a 37' racing sailboat, a catamaran, or a 55' twin masted sailboat or a 45' luxury yacht. Experience an intimate 3-hour cruise with that special someone, friends and family, bring a small group of special friends.
We can take you and your special loved one, a small intimate group of six, or up to 27 friends and family to watch the last rays of the sun drop into the beautiful Pacific Ocean.
Enjoy complimentary beverages and snacks during the ride, or feel free to BYOB your food and beverages. You can even plug in your own music to add to the fun.
A Sunset Cruise with Pacifica Sailing Charters lets you experience a "sunset" side of San Diego Bay, and the invredible reflections of glass from the high rises downtown. Our sailboats and catamarans unique vessel design are perfect for a relaxing atmosphere, and our guaranteed smooth ride make for an awe-inspiring sunset sail that will leave you wanting more. Our sunset sailing tours are designed specifically for those seeking a personal touch to an average sunset cruise.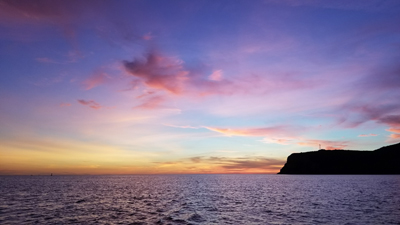 Explore the the San Diego bay with it's amazing variety of sea life, including dolphins, sea lions, and the occasional gray whale. MAke it a special occasion by bringing food and drinks of your choice, absolutely free.
Plug into our bluetooth wifi and enjoy a your favorite song lists from Spotify and Pandora, allowing you to experience an intimate yet laid-back mood unlike any other sunset cruise in San Diego.
Whether you are looking for a romantic outing, or a relaxing way to enjoy the evening sunset with freinds, our sunset cruise will satisfy any occasion and make for a memorable evening.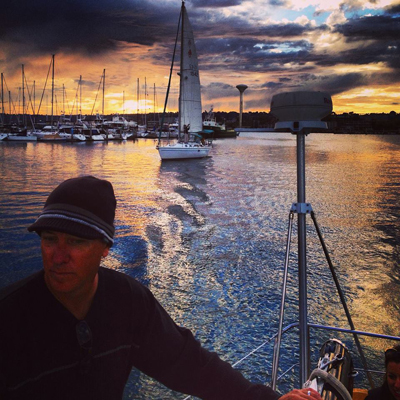 A Pacifica Sailing Charter Sunset Sail makes for the perfect late afternoon sailing cruise. Experience spectacular views of the San Diego Skyline as you make your way out the channel, past the subbase and old lighthouse. Take in the sights as you sail by Coronado North Island Naval Complex, the Sea Lion dock, the submarine base (NBPL), the Cabrillo National Monument, and the Point Loma Lighthouse.
Once in the Pacific, you will have an unobstructed view of a uniquely beautiful San Diego Sunset. As the sun sets, we will head towards Downtown San Diego with the changing colors of remaining sunlight and stare in awe at the city lights downtown as they begin to shimmer off the bay.
Our sailing boat tours and boat charters allow you to enjoy breathtaking views of downtown while relaxing on your own private yacht. Take a sailing lesson and explore the naval base, aircraft carriers, destroyers, and submarines, not to mention an incredible abundance of sea life including Sea Lions, Dolphins and Whales.
This tour of the bay is limited to couples, six passengers, 12 passengers, and up to 27 gusts depending on the size of your party. Your captain will share whimsicle tales of old san diego and tales of the sea as you enjoy the sights around San Diego including Harbor Island, Marine Mammal Training Facility, USS Midway, and so much more.
This 3-hour tour is likely ends with an amazing sunset reflection from the glass buildings downtown. We call this a Point Loma Sunset as has to be seen to be believed. Our captains are very knowledgeable and will be interactive throughout the duration of the trip. Remember to bring your camera for some of the best sunset pictures ever.
Experience a private group charter with up to six passengers while sailing along the San Diego Bay on our catamaran. If you're looking for a late afternoon of family fun, or to celebrate with your friends look no further.

Leave your worries behind as you set sail and enjoy wine and cocktails as you relax with the setting sun. Create a lasting memory of a lifetime while Watching the setting sun cast its brilliant colors across the ocean and reflecting from the city as it lights up for the nightlife.
Whether you need a classic yacht for your corporate event, a sailing lesson, a bachelorette sailing party, or a burial at sea for a loved one, we can provide the perfect sailboat rental or sailing tour for your private parties, proposals, anniversaries, birthdays, ash scatterings, or simply a romantic sunset sail.

Ask About Our Amazing Catering
Cruises: 11:00am and again at 4:00pm
Departs: Marina Cortez (Harbor Island)
Cancellation policy: 24-hour notice needed for any cash refund
Advanced Purchase Required Cruises Sell out Quickly
Check Availability and Buy Tickets Online
Call Us Today: (619) 887-5443
Cruises: 11:00am and again at 4:00pm
Departs: Marina Cortez (Harbor Island)

Cancellation policy: 24-hour notice needed for any cash refund
Advanced Purchase Required Cruises Sell out Quickly
Check Availability and Buy Tickets Online
Call Us Today: (619) 887-5443