About Our Pacifica Sailing Charter Yachts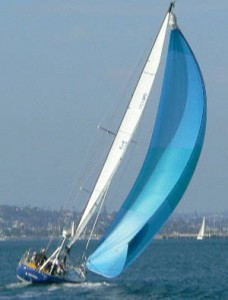 We feature FIVE types of yachts. The sailboat is a classic restored 1973 Ranger 37 named Masquerade. This 37′ yacht was known as "The Rocket" back in her day due to her lightening speed and innovative hull design. Much heavier than traditional boats today, Masquerade will provide a steady, smooth sail no matter what the conditions. The mythical Ranger 37 had a colorful racing history back in the 1970′s and continues to win off shore races to this day.
Accommodations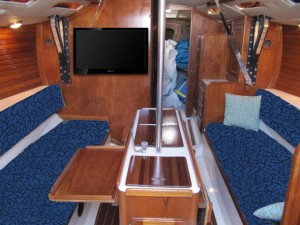 Step below and find two very large quarter berths. The galley is to port with large seating area around functional center island which doubles as a dinette and wet bar. There is a spacious head (toilet) which features fresh running water and an electric toilet.
For your convenience, we have a Sony stereo that connects to any iPod or smart phone.
We have a wide selection of music or your can bring your own.
Going forward, we have a large V-berth set up for racing and a large assortment of sails. A great boat, race or cruise. We also have a 32″ LED flatscreen wall mounted television and several movies onboard. Our galley features a new 3-burner propane stove and paper plates and cups are provided. No Children Under 10 Years of Age
Click Here For More Information on this Sailing Yacht
Charter this boat with a Captain and up to six persons for a private cruise $480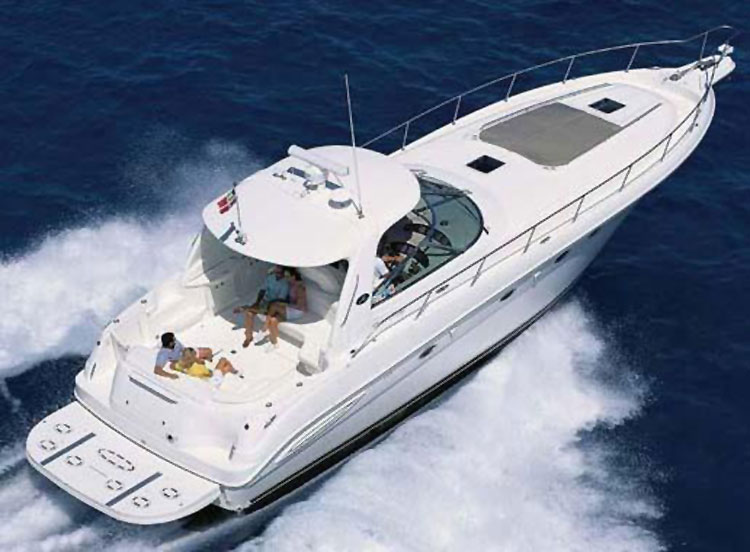 We have also added a sleek new 45′ power yacht for your harbor excursions should you feel the need for luxury. This yacht is luxurious, spacious, and can be used for private fishing trips, surfing trips, private birthday parties, Bachelor / Bachelorette parties, burials at sea or just a meandering cruise around the bay. We take the time to insure your cruise is the best in town.
Built on a deep-V hull with a solid fiberglass bottom, the two-stateroom interior of the 400 Express offers comfortable accommodations for six.
The master stateroom includes a pedestal island berth as well as a TV/VCR and a privacy door, and a circular pocket door closes off the starboard sitting room, converting it into a private stateroom with a full-size bed and convertible upper bunk.
Whether you're planning a birthday party, corporate event, wedding or just want something special while cruising aboard our yachts, let us provide a cruise on San Diego Bay that will work within your budget to give you that extra special touch. You can BYOB your own food and Alcohol on all of our yachts.
Click Here For More Information on this Luxury Yacht

Charter this boat with a Captain and up to 12 people - $1200

Need to accommodate a larger party?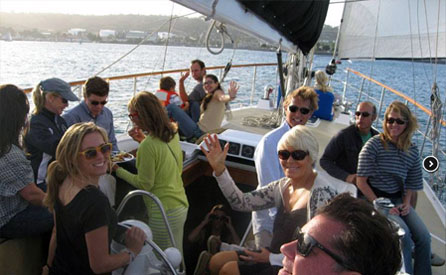 Our 55-foot custom designed steel hull twin masted ketch is stable and strong, yet sleek and smooth at sea. Along with Captain Jack and our crew, we welcome you to take part in hoisting and trimming the sails, steering through the entrance of the bay, or sit back, relax, and soak up the sun and scenery.
Our Three hour excursion is just right for enjoying the views of the city of San Diego Bay and the ocean beyond.
We specialize in LARGE GROUPS and PARTIES!
Let us custom design your special occasion cruise for your group of up to 27 guests.
Our 55-foot custom twin masted sailing yacht (Up to 27 persons) Includes Captain, Crew, Snacks, and water. You can BYOB your own food and Alcohol on all of our yachts.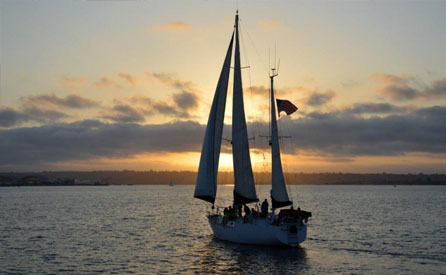 PRICING FOR LARGE OUR SAILBOAT
07 - 12 people - $1200
13 - 18 people - $1600
19 - 27 people - $2400
Whether it's a motor yacht or sailing charter, let us provide an awesome day on San Diego Bay for you and your friends.
Click Here For More Information on this Luxury Yacht


Ready for a REAL ADVENTURE in Sailing? America's Cup sailing aboard Stars & Stripes in San Diego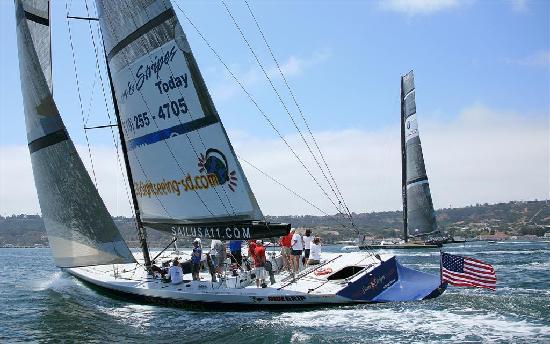 The Most Exciting Sailing Experience on San Diego Bay
No longer do you have to be a billionaire or a professional sailor to experience the thrill of sailing San Diego Bay on an authentic America's Cup Class racing yacht!
Take the helm of Stars & Stripes USA-11, and live the dream for yourself.
Feel the power of 3,500 square feet of modern Carbon Fiber 3DL sails on one of the fastest mono-hull sailboats in the world.
You'll be amazed at how responsive this all carbon-fiber racing machine can be. And, with more than 80% of her weight at the bottom of the keel, she slices through the water like a knife.
No sailing experience is necessary to be a part of this unique and exciting three hour sailing adventure.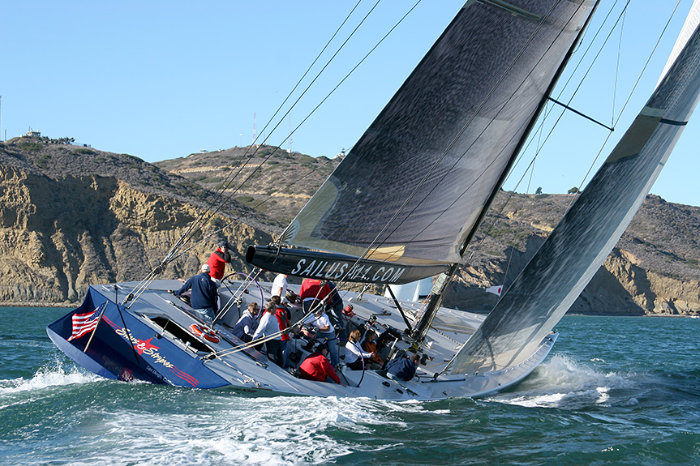 Once we leave the dock, we go into high gear because there is a lot to do! Stars & Stripes USA-11 raced to be the defender in the 1992 America's Cup with a crew of 16.
We will only have 7 or crew members, so your help is greatly appreciated.
It takes 6 able bodies grinding the winches to raise the mainsail plus a few more to trim the sails each time we tack or gybe.
Everyone also gets a turn at the helm to steer the boat. However, if you are inclined to just sit back and enjoy the ride, that's fine too.
PRICING FOR OUR AMERICA'S CUP SAILBOAT
Individual Passenger - $125
Private Charter 18 - 24 passengers - $1,800
Click Here For More Information on this Sailing Yacht

Need to accommodate an even LARGER party or wedding?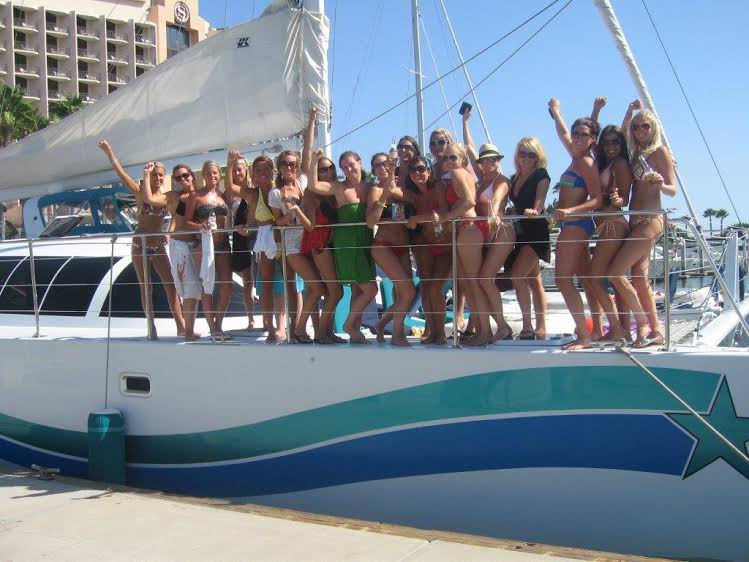 Designed by renowned catamaran designer Kurt Hughes, the Aolani Catamaran is a 58' Catamaran with a 32' beam. Sails are approx.. 1500 sq. ft. without spinnaker.
She is US Coast Guard licensed for 48 people, plus crew. We are certified to sail in the open ocean, most charter boats have to stay within the San Diego Bay.
With such a unique view of the city, there should be no rush when taking it all in. Make your San Diego day cruise as peaceful as the water, and relax onboard the Aolani Catamaran.
Most San Diego day cruises have a four hour time limit, but not with us. Because we are privately chartered, we will sail as long as you'd like, wherever you'd like. We will make sure you don't miss any of the sights in San Diego Bay by letting you choose your own hours as we are private charter only.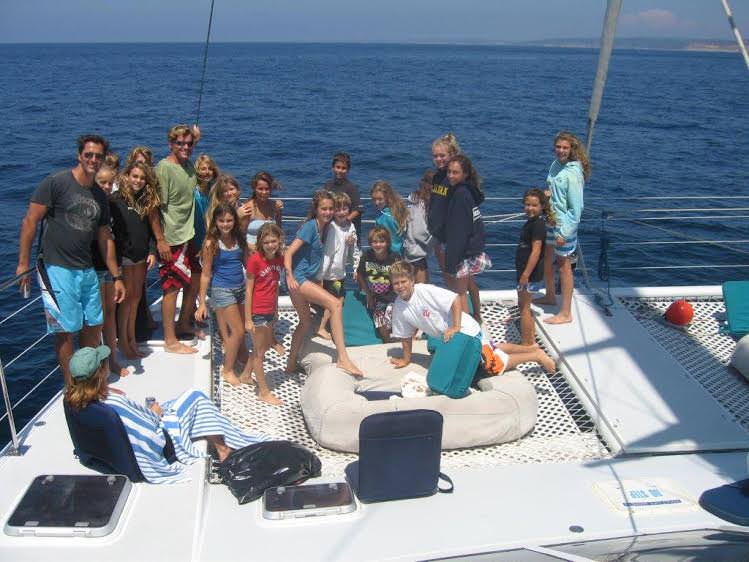 Day Cruises - Corporate Events - Weddings - Burial at Sea
Whale and Dolphin watching - Catalina Overnight - Military Events - Holiday Cruises - Film/Media Events - San Diego skyline - Aircraft Carriers - Star of India - B-39 Submarine - Anchor in Glorietta Bay for a day of swimming, snorkeling, Stand Up Paddling - Coronado Island - La Jolla Cove for a day of swimming, snorkeling.
With us, your day cruise in San Diego will be an unforgettable one. You can take advantage of our catering services and have your meals right on the boat, or anchor and enjoy a meal on land. We are here for you and strive to accommodate your needs.
We are the only 48 person sailboat in San Diego where everybody can be on the inside or on the outside at the same time. Aolani is primarily a sailing yacht, however, if you should prefer a motor yacht we will not hoist the sails and then she is a motor yacht.
Sailing is the number one attraction in San Diego. Experience the thrill of fast sailing with this lightweight and attractive vessel. When you leave this boat we want you to have experienced a great sailing adventure.
PRICING FOR LARGE OUR CATAMARAN
Minimum two hours | Does not include gratuity
07 - 16 people - $1,600
17 - 32 people - $2,800
33 - 48 people - $4,200
Click Here For More Information on this Sailing Yacht

Advanced Purchase Required Cruises Sell out Quickly
Check Availability and Buy Tickets Online
Call Us Today: (619) 887-5443