Sailing Charters and Boat Tours in San Diego
About Pacifica Sailing Charters of San Diego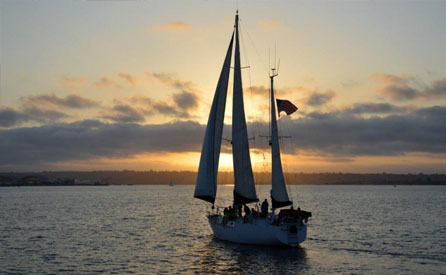 Sailing San Diego Bay is an awesome way to spend an afternoon in beautiful San Diego. Whether you want to go on an exciting adventure where you take the wheel, or if you just prefer to stretch out in the San Diego sunshine with a trusty skipper at the helm, Pacifica Sailing Charters provides fun and exciting boat tours for the perfect sailing experience for you.
There's plenty of room to explore sailing san diego and everyone gets a chance at the wheel if they feel adventurous on these sailing charters located in san diego.
With over 20 years of boating and sailing on San Diego Bay and the waters surrounding the San Diego harbor, we excel at ensuring each sailing tour, boat charter and catamaran cruise and sailing lesson is a memory you will cherish for a lifetime.
We have several captains at Pacifica Sailing Charters that are amazing racers and blue water sailors. Our boat tour captains are US Coast Guard certified and professional.
Our boat captains have been sailing san diego and running boat charters and sailing tours for decades, and some even longer. Pacifica Sailing Charters has been voted the number one sailing charters and sailing tours in san diego for 5 years in a row and our sailboat charters and boat tours are the number one attraction in san diego.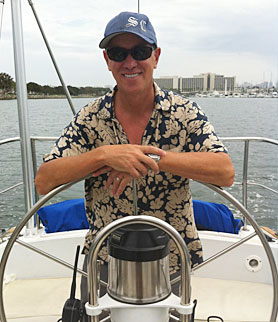 Captain Mick Moore is a licensed 100 Ton USCG Master, and has a long record of sailboat racing in Southern california and has competed in almost every major sailing race in San Diego and Mexico. A sailing lesson from Mick is a sailing lesson from one of the best. Born and raised in San Diego, no one knows the san diego bay better than Mick
Growing up with parents that were members of San Diego Yacht Club in the early 60's, Mick was introduced to sailing at an early age when his father would provide boat deliveries up and down the California Coast.
He has been a member of Point Loma Yacht Club since April of 2012, and is also a member of Silver Gate Yacht Club. He has been on the board of directors for PLYC since 2013, and was Commodore in 2016. He is currently a Staff Commodore at PLYC.
He is a licensed 100 Ton Master Captain, a Class 3 Certified Racing Sailor, a certified scuba diver, an avid surfer, and loves all things that have to do with the ocean.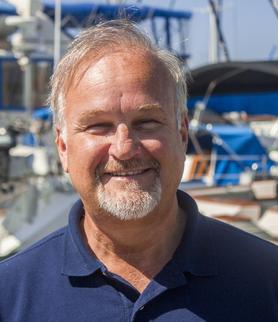 Captain Jack Buckley, licensed 100 Ton USCG Master, is always ready to take you sailing in San Diego. take part in hoisting and trimming the sails, steering through the entrance of the bay, or sit back, relax, and soak up the sun and scenery.
Jack is a licensed yacht broker and current manager for Ensign Yachts in San Diego. Jack has been a boat buyer, boat sellers, captain, cruisers, yacht club member, and has been in yacht management & maintenance business for years.
Jack has sailed the Pacific Coast, Mexico, Hawaii, the Mediterranean and the English Channel. His staff is very familiar with West Coast inventories, but have also sold boats from Australia to Japan and the Pacific Northwest to Mexico.
Jacks background gives himethe knowledge and experience to assist a charterer in finding the right boat to fit their personal needs, whether it is to find freedom or that comfortable condo on the water.
Our three-hour boat tours are just right for enjoying the views of downtown San Diego and the ocean beyond. We specialize in special occasion cruises for your groups of 6, 12, 27 guests and more.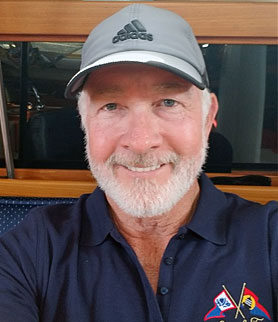 Captain Mike Sopher is a licensed 50 Ton USCG Master and a San Diego native. Having gotten bitten by the sailing bug back in the early 80's, Mike learned the dynamics of sailing early.
Living in Mission Beach with a Prindle 18' Catamaran parked right across the street on the bayside meant many fun-filled days single hulling across the bay, while learning the basic of sailing.
In the early 2000's Mike purchased his first sloop, a Pearson 30', then followed it up with a Catalina 34' and realized that sailing for him, was going to be a lifetime passion.
Being a fulltime Realtor, Mike enjoys sailing weekly, racing with friends when possible, and many other outdoor activities such as mountain biking, paddle boarding & surfing, camping & hiking, scuba and staying fit.
Captain Mike loves to sail and when you book a trip with Mike, you can bet your day will be a memorable one.

Whether you need a classic yacht charter, sailboat or catamaran for your corporate event, a sailing lesson, a whale watching tour, or an ash scattering burial at sea for a loved one, we can provide private boat charters and boat tours, private parties, bachelorette parties, proposals, anniversaries, birthdays, ash scatterings, or simply a romantic sunset sail.
While sailing on your private boat tour on the San Diego bay, enjoy breathtaking views of downtown, the naval base, aircraft carriers, destroyers, and submarines, not to mention an incredible abundance of sea life including Sea Lions, Dolphins and Whales.
Book a sailboat tour today. book a catamaran rental, book a sailing tour or boat charter. Bring a group or that special someone.
Call Pacifica Sailing Charters to plan your next adventure or event.
Whether you're planning a birthday party, corporate event, wedding or just want something special while cruising aboard our yachts, let us provide the catering for your next party or event. Our catering services can work within your budget to give you that extra special touch.
Imagine yourself relaxing on one of our comfortable deck cushions or marine bean bags with the wind in your hair and a drink in hand, while the sky around you is exploding in color.
Feel like giving sailing a whirl? Join our crew in hoisting the sails or take the helm! Enjoy the sounds of the waves rushing underneath you. Our Bay is Famous for Magnificent sunsets and the famous "green flash," which sometimes occurs when the sun, in all of its fiery glory, kisses the ocean horizon. Have your camera ready to capture not only the dramatic sunset, but the dolphins, Sea Lions, and whales that often greet us on our journey. Invite your friends or your significant other for an amazing day of Magic…
Burial at Sea / Ash Scattering at Sea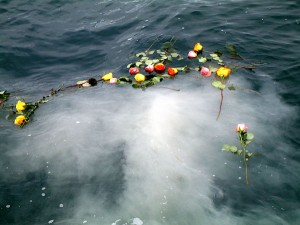 For the most elegant burial at sea experience, we have our stable and rommy catamaran with all the comforts of home for your harbor excursions should you want to invite more guests. Whether it's a motor yacht or sailing charter, let us provide a dignified ash scattering burial at sea for you and your loved one. Prices start at $480 and includes a tour of San Diego bay, snacks and beverages.
We offer a robust team building sailing program that organizations use for many purposes; as rewards; to build camaraderie among new or changing teams; to learn new skills and insights for achieving better results in their organizations. Sailing is rich with business client button parallels. It is an activity that succeeds with teamwork, communication, on-the-spot problem solving and solid leadership.
What to Bring
Sometimes it can get a little chilly on the water, so dress in layers. We have plenty of dry storage for bags purses. We prefer all guests wear white soled tennis shoes only, PLEASE - NO BLACK BOTTOM SHOES! We provide complimentary water and an assortment of chips. Remember to bring your camera / video camera or Phone to capture your event.
No Children Under 10 Years of Age Please...
Sailing in Spring, Fall, and Winter:
Sunscreen
Sunglasses with croakies (leash)
Rubber-soled deck shoes or sneakers and warm socks.
A warm jacket or preferably sweater and windbreaker
A pair of long pants if you are wearing shorts
Sailing In July thru Sept:
Sunscreen
Sunglasses with croakies (leash)
Rubber-soled deck shoes or sneakers.
A light sweater or windbreakers.
Make your reservation today, and we will sail tomorrow…
Cruises: 11:00am and again at 4:00pm
Departs: Marina Cortez (Harbor Island)
Cancellation policy: 24-hour notice needed for any refunds
Advanced Purchase Required Cruises Sell out Quickly
Check Availability and Buy Tickets Online
Call Us Today: (619) 887-5443