Pacifica Sailing Charters Bachelorette Sailing Parties
Best Bachelorette Party Idea - A Nautical Bachelorette Sailing Party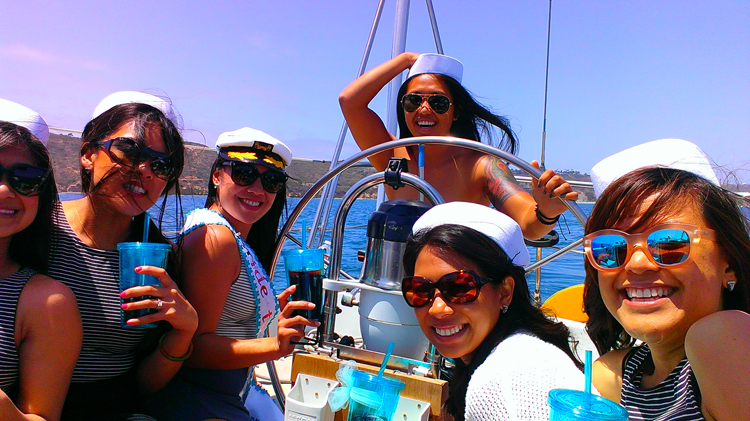 A Bachelorette Sailing Party is probably the BEST Bachelorette Party Idea of all time. Pacifica Sailing Charters makes it easy and inexpensive to throw your favorite bachelorette, the best party ever while keeping the cost down and staying within your budget.

Our low cost special pricing means you can spend time gathering all of your themed accessories for a fantastic day of sailing. You concentrate on the FUN.
Pacifica Sailing Charters Bachelorette Sailing Parties allow you to BYOB your own food and booze, so you save money, save time, and bring the Beer, Wine, and Champagne you prefer, instead of the cheap stuff the other guys serve. We concentrate on saving you time and money, especially when you have a wedding to plan and the money is tight.
What could be better than celebrating this special occasion on a beautiful sailboat, with beautiful people, enjoying the sun and salt air on the clear crystal waters of beautiful San Diego bay with your closest friends and bridesmaids.
Set sail with an experienced captain who knows exactly how to turn an average sailing cruise in San Diego Bay into the bachelorette party of the century. We make it fun, easy and affordable while providing your bachelorette the memory of a lifetime.
Forget the hassle of trying to decide on a theme, picking a place to party and getting everyone to show up on time. We take the guess work out of creating an exciting bachelorette event for your best friend.
Make it fun, make it memorable, and make it the best bachelorette party ever by getting everyone together for a sailor bachelorette party and create a hassle-free bachelorette sailor theme party today.
Let Pacifica Sailing Charters create the best bachelorette party while visiting San Diego.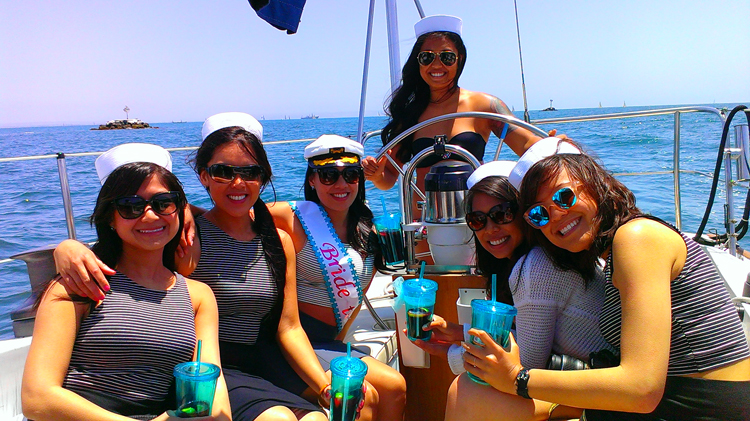 The Bachelorette parties we offer are 100% customizable. click the "Buy Tickets" button and we'll help you customize it.
We have Bachelorette party ideas that don't SUCK. We will keep smiles on your face and beer in your glass. Don't try and do this yourself. Check out our list of happy Bachelorette party goers and get ready for a day you won't forget.
Set sail throughout the bay and off shore. Tear up the bar and then sail away before anyone's figured out what happened. Maybe you just want to relax and reminisce with your closest friends about your past and future life.
The best thing about a Bachelorette party on a boat is the privacy. No one will overhear your conversations, see your actions, or interrupt your party.
There is no place on earth as private or as classy as one of our boats on San Diego Bay. After the sail the party doesn't have to end, it's only a few blocks from our dock to endless restaurants, bars, and clubs for all your San Diego Bachelorette Party needs.
We are the most flexible and accommodating sailing charter service in San Diego. If you're not familiar with the Bay or San San Diego, simply give us a call and we'll help you plan an unforgettable Bachelorette party today.

Our yachts are BYOB, Food, and Entertainment, So You Can Bring Your Own Choice of Food and Drink!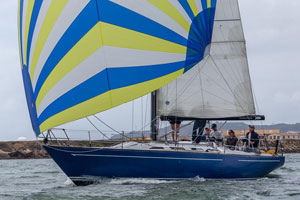 Ranger 37 Raceboat

37' Ocean Racing Sailboat (Up to 6 Persons)

Includes Captain, Water, Snacks
Feel free to BYOB your own food and beverages

Cost $480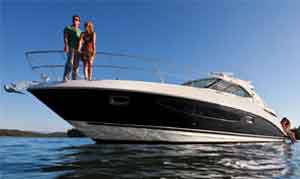 We have also added a sleek new 45′ power yacht for your harbor excursions should you feel the need for speed. This yacht is luxurious and can be used for private fishing trips, private parties, bachelore / Bachelorette parties, burials at sea or just a meandering cruise around the bay. We take the time to insure your cruise is the best in town.
Whether you're planning a bachelorette party, corporate event, wedding or just want something special while cruising aboard our yachts, let us provide the catering for your next party or event. Our catering services can work within your budget to give you that extra special touch. Bareboat Charter up to 12 people - $1200


Need to accommodate an even LARGER party?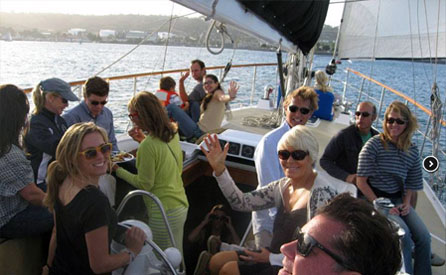 Our 55-foot custom designed steel hull twin masted ketch is stable and strong, yet sleek and smooth at sea.
Along with Captain Jack and our crew, we welcome you aboard!
Take part in hoisting and trimming the sails, steering through the entrance of the bay, or sit back, relax, and soak up the sun and scenery.
Our three-hour excursion is just right for enjoying the views of the city of San Diego Bay and the the ocean beyond.
We specialize in LARGE GROUPS OF BACHELORETTE'S
Let us custom design your special occasion cruise for your group of up to 27 guests.
Large 55' Sailing Yacht - 55-foot custom twin masted ketch (Up to 27 persons)
Includes Captain, and Crew.
1 - 6 people - $480 - 37' Racing Sailboat
7 - 12 people - $1,200 - 50' Sport Yacht Powerboat
13 - 18 people - $1,600 - 55' Double Masted Sailboat
19 - 27 people - $2,400 - 55' Double Masted Sailboat

Contact Us To Set Up Your Bachelor / Bachelorette or Private Party Today!
Simply Select the Private Charter Option Here
Advanced Purchase Required Cruises Sell out Quickly
Check Availability and Buy Tickets Online
Call Us Today: (619) 887-5443