Sailing Charters and Boat Tours in San Diego
San Diego Booze Cruise Tours

Did someone say Booze Cruise?
Grab your favorite cocktails and see the city of San Diego in a new way while cruising on a booze cruise sightseeing tour of San Diego Bay and beyond. aboard one of our beautiful sailboats or luxury party yachts.
Our Booze Cruises allow you to BYOB your own beer / wine / cocktails and food at no additional charge.
Bring what YOU WANT TO DRINK instead of paying bloated prices for cheap alcohol from the other companies.

Pacifica Sailing Charters offers several different Booze Cruise ideas for you and your friends to enjoy while visiting San Diego. Our boats depart from Marina Cortez on Harbor Island every day, throughout the year 24/7, and all yachts are equipped with a seasoned, local, professional USCG Certified captain.
San Diego Bay is one of the most beautiful bodies of water on the West Coast to enjoy a Booze Cruise. Why not enjoy this natural wonder aboard a beautiful sailing yacht with a group of friends and furnish your own food and drink. Cruise the bay with a knowledgeable and friendly Captain. This group sail is limited only by your imagination and can accommodate 6 to 27 passengers giving you plenty of room to enjoy the sun and sights.
Sail past all of the landmarks that the Bay has to offer including the USS Midway, Star of India & Maritime Museum, Coronado Bridge, NAS North Island, and Point Loma just to name a few. You will see shore birds, Sea Lions, and Dolphins. Take your turn behind the wheel and have your friends participate in sailing our sailboats as much or as little as you like. Complimentary bottled water and snacks are included or bring your own food and drink.
Pacifica Sailing Charters is conveniently located at Marina Cortez on Harbor Island, less thn five minutes from the San Diego Airport. Free parking is available across the street along Harbor Island or Harbor Island Park, across the street from the marina. We suggest you arrive 10 minutes prior to our scheduled departure time at the gated entrance to our dock. After we depart the dock, we sail toward the Pacific Ocean passing Shelter Island, the Submarine Base, Ballast Point, and the Point Loma lighthouse. Along the way we will see many different yachts, birds, Sea Lions, and possibly even some Dolphins. Once past Point Loma we will spend about a half hour sailing and enjoying the incredible views along San Diego Bay, including the Point Loma Lighthouse, San Diego skyline, Coronado bridge, Hotel Del Coronado, Baja Mexico, and the Coronado Islands.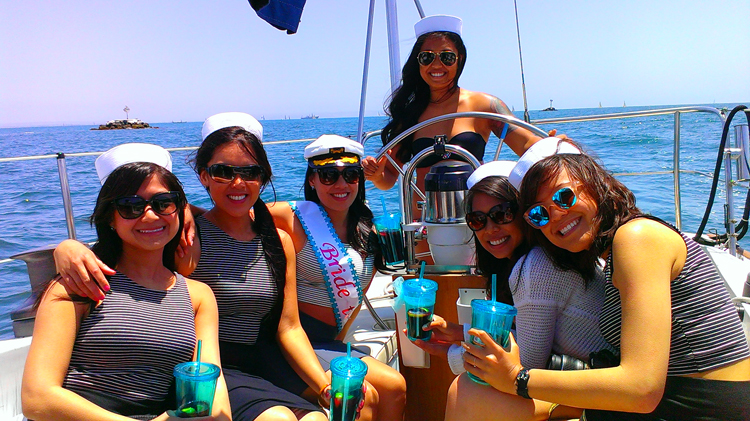 The San Diego Bay is usually bustling with military and civilian watercraft of all sizes.
It's not uncommon to see aircraft carriers, submarines, super-yachts, and many beautiful sailing yachts on the bay. You will also see a variety of military helicopters and jet fighter aircraft flying overhead, from Black Hawks to F-18 fighter jets, to Osprey and large Military Transport Planes. You may choose to sail past the USS Midway, Star of India, and Maritime museum before heading back to Harbor Island. Your sailing booze cruise will be an experience that you will never forget and will hopefully be the highlight of your stay while visiting San Diego.
Choose from several different booze cruise sailing boats and yachts.
Enjoy a smaller, more intimate booze cruise on a gorgeous, fully restored, 37-foot Ranger 37 racing yacht. This private, 3-hour trip is ideal for celebrating a birthday, anniversary or just to have a memorable time with friends! Feel free to BYOB your own food and booze / beverages while you and your guests take in the views of San Diego Bay.
Looking for something different for your party of 6-12 guests?
Experience a unique booze cruise aboard our custom 32' Catamaran, and get your party started on the warm and refreshing waters of San Diego during this 3-hour sailing booze cruise. Climb aboard this large and stable catamaran that seats 6 - 12 guests and navigate the waters of San Diego Harbor or snorkel in one of the many bays and channels. Search and photograph local wildlife like Sea Lions, Dolphins, pelicans, and more, plus a chance to soak up the sun-drenched scenery of this unique and affordable booze cruise. We provide On-board snacks, but feel free to BYOB your own preferred alcohol and food.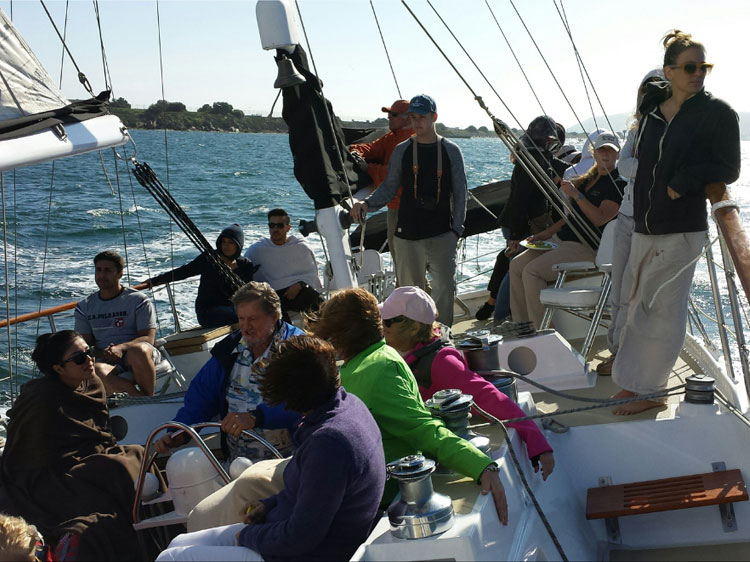 Need a larger boat for your booze cruise?
Come aboard our 55-foot twin masted sailing yacht, Sit back, relax and enjoy the spectacular scenery as you sail past the beautiful coastline of the surrounding San Diego Bay with up to 27 of your closest personal friends and family. Fell free to cater or BYOB your own food and booze on this ama3 hour saling booze cruise. This is one of the best San Diego booze cruises available at an affordable price. Gather your friends and family for a private booze cruise around the San Diego harbor. This large sailing yacht can host up to 27 passengers, creating the ultimate setting for an amazing event.
If you're celebrating a special occasion, just let your captain know and they will ensure that you and your party have the best time ever. Looking for a faster paced luxury yacht for your booze cruise? Charter our 45 foot luxury power yacht, complete with captain and crew. Take off from the Harbor Island area on a private yacht with your special group of up to 12 guests. Sit back with a bottle of your favorite wine or champagne and enjoy the scenery as your captain cruises you and your guests around the harbor. If you're looking for a romantic way to celebrate an engagement, anniversary or to even pop the question, don't miss your chance to take this exciting, relaxing and scenic private booze cruise.
Explore San Diego Harbor and beyond on one of our custom tailored intimate and fun booze cruises. No matter which yacht you choose, all of our charterd yachts and excellent booze cruises will allow you and your guests to enjoy an intimate, and memorable experience while visiting San Diego. Don't delay, Make your way to Pacifica Sailing Charters for a one of a kind booze cruise while visiting San Diego.

Read more about this Amazing San Diego Booze Cruise at: http://pacificasailingcharters.com
Read more about San Diego Sailing Tours: http://pacificasailingcharters.com/pages/Our-Yachts.html