Sailing Charters and Boat Tours in San Diego
About Our Secret Surfing Trips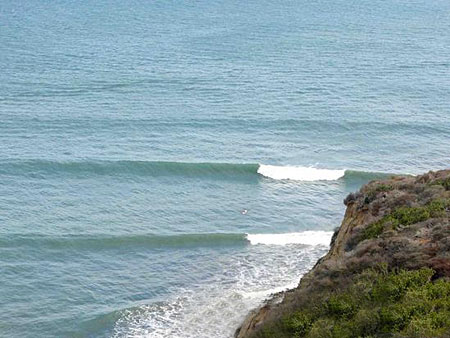 Summary
Ralph's break is on the east side of the Point Loma point, inside the bay and is accessed by boat only. This is a world class surf spot for experienced surfers.
Ralphs is one of the few spots in San Diego where you have to get there by boat. Ralphs is also one of longest and highest quality waves in the region, offering tapered right hand walls that never close out.
There is no section to paddle back out through, so catching wave after wave, no matter how large the swell is a no brainer.
On a good weekend expect 10-15 boats anchored near the lineup. Don't let the crowd bum you out though because Ralph's really is worth a visit.
Ralphs is great for two reasons...
1. The quality of the wave
2. The adventure required to get a surf
3. The length of time riding the wave
You will get out there and forget you are two miles from one of the largest cities in California. Ralph's is also unique because it is the mouth of port of entry for any Naval ships coming into San Diego, so lookout for aircraft carriers. Looking up at a aircraft carrier from sea level will seriously blow your mind.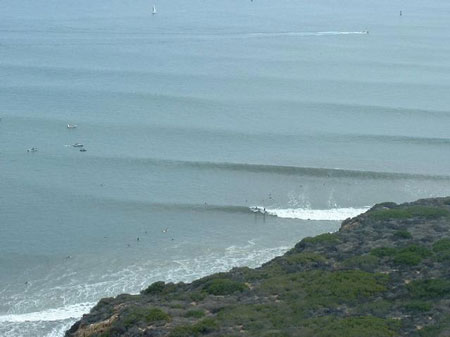 In terms of the surf, expect long rides that peel along the base of a cliff. The wave allows for multiple turns and even the odd barrel section.
After two hours of surfing, most people are completely worn out due to the long rides.
Ralph's is known as a south swell spot, but it's rumored that with enough west in any swell it can get good.
Mid-tide is best, and try to get out there at odd times to avoid the crowd. Avoid going out there with south wind as it will be blown out.
Fall is the best season for Ralphs as we still get south swells and there is generally a minimal amount of wind.
Author note: By no means is Ralphs the only "boat-in" spot in this region. Don't be afraid to go "around the corner," for some winter time classics at spots like Little Waimea, Donuts, and Dolphin Tanks.
Who is Going to Love It
Above average surfers with rich, boat-owning friends or a lucky few who charter our surf adventure boat tours.
In all seriousness if you can hitch a ride out to Ralph's, do it! It is a fun diversion from the normal cycle of surfing and many times, you have the break to just you and a few friends.
You'll have fun whether you're fishing, surfing, or drinking a few beers in the channel. Ralph's also suits many different styles of surfers, and longboards and short boards will all find a place in the lineup.
It is not a wave that is dangerous or sketchy so a more advanced beginner can snag a few turns as well.
Directions, Parking, & Regulations
Our boats leave out of Marina Cortez (1880 Harbor Island Dr. near the airport.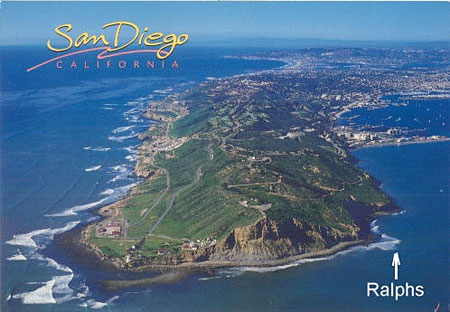 It's about a 30-45 minute boat ride out to the break. Once you are there, you must paddle from the boat to the break, which is approximately 50 yards. Once you are there, Do your best to not step on land. There are a few military installations out here, and they don't like surfers getting in the way.
There is a hefty fine and if you are really ignorant, you could find yourself having a longer-than-desired talk with Homeland Security.
I've never heard of a shark attack out there but this is one of the only places in California I have had a no-joke shark interaction.
Booking a surf trip with a couple of buddies can be an awesome way to hit a secret, uncrowded surf break in San Diego.
Click here to book your surf trip.

It is only a mile or two from the slip, so plan on spending about 30 minutes or so to get out there, and before you know it, you'll be surfing some of the longest, most perfect waves at one of the most secret spots in San Diego.
Surfing in Spring, Fall, and Winter: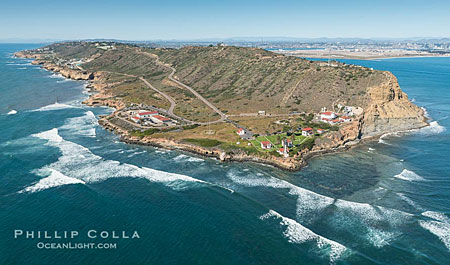 Wetsuit and Bootys
Sunscreen
Sunglasses with croakies (leash)
Rubber-soled deck shoes or sneakers and warm socks.
A warm jacket or preferably sweater and windbreaker
A pair of long pants if you are wearing shorts
Sailing In July thru October:
Rash Guard
Sunscreen
Sunglasses with croakies (leash)
Rubber-soled deck shoes or sneakers.
A light sweater or windbreakers.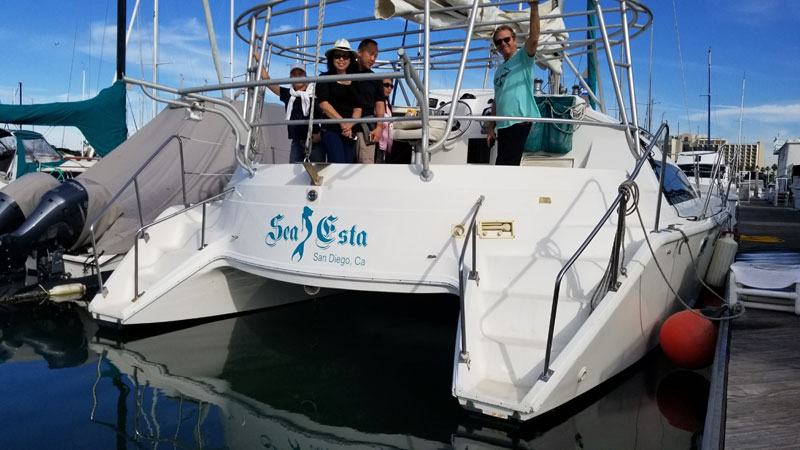 Option 1: Yacht with Captain / Beer / Snacks / Water 1-4 guests / 4 hour private surf trip $800
Option 2: Yacht with Captain / Beer / Snacks / Water 5-8 guests / 4 hour private surf trip $1600

RULES:
1. DON'T DROP IN ON ANYONE.
2. DON'T PADDLE OUT INTO THE ONCOMING PATH OF A SURFER WHO IS UP AND RIDING. HEAD FOR THE WHITE WATER AND TAKE IT ON THE HEAD. IF YOU DON'T KNOW HOW TO DUCK DIVE-LEARN.
3. DON'T DROP IN ON ANYONE.
4 . THE SURFER CLOSEST TO THE BREAKING PART OF THE WAVE HAS POSSESION. OR THE SURFER WHO CAUGHT THE WAVE FIRST HAS POSESSION. *UNLESS THAT PERSON HAS A LONGBOARD AND IS BEING A DICK ABOUT WAVE COUNT. IN THIS CASE SIMPLY ASK..."WOULD YOU MIND IF I WENT ON THIS WAVE?"
5. CONTROL YOUR CRAFT. I DON'T CARE WHAT IT IS YOU RIDE. CONTROL IT. BODYBOARD, SHORTBOARD, LONGBOARD, SUPB, KITE BOARD....RUBBER DUCK.
PLEASE, JUST CONTROL YOUR CRAFT.
6. WEAR A LEASH. UNLESS YOU ARE AN ACCOMPLISHED SURFER WHO NEVER LOSES YOUR BOARD, PLEASE WEAR A LEASH.
7. NEVER DITCH YOUR BOARD. IF A SET WAVE IS ABOUT TO BREAK ON YOUR HEAD, AND THERE ARE SURFERS BEHIND YOU...HOLD ONTO YOUR BOARD. DUCK DIVE AND HOLD ON TIGHT. IF YOU DITCH YOUR BOARD, AND IT HITS SOMEONE. PADDLE IN. YOU'RE ALL DONE.
TIPS:
1. IF YOU ARE UNSURE OF YOUR ABILITY, OR, IF YOU'RE A BEGINNER,
PLEASE DON'T PADDLE OUT INTO BIG SURF.
2. MAKE SURE YOU KNOW HOW TO SWIM.
3. TRY SHARING. YOU KNOW, GIVE A WAVE-GET A WAVE. YOU'D BE SURPRISED HOW THIS WORKS.
4. DON'T TRAVEL WITH A READY MADE CROWD. IN OTHER WORDS, LIMIT YOUR SURF TRIPS WITH ONE
OR TWO OTHERS. DON'T SHOW UP AT SOME SEMI SECRET SPOT WITH A DOZEN GUYS.
5. BE PATIENT. NO ONE LIKES AN AGGRO SURFER WHO CAN'T SEEM TO GET ENOUGH WAVES. CHILL.
6. DON'T BE LOUD. NO ONE LIKES TO HEAR PEOPLE RANDOMLY SCREAMING. BE COOL.
7. DON'T PUT YOUR LEASH ON UNTIL YOU GET NEAR THE WATER'S EDGE. WHY? BECAUSE THERE'S NO NEED TO BE DRAGGING SMALL CHILDREN, DOGS, BEACH CHAIRS ETC. AS YOU WALK A COUPLE HUNDRED YARDS WITH THAT THING ATTACHED TO YOUR ANKLE. I MEAN, WHY NOT JUST PUT THE DAMN THING ON IN YOUR VEHICLE? OR YOUR HOME? AND WHEN YOU'RE DONE SURFING. TAKE YOUR LEASH OFF WHEN YOU HIT THE BEACH. THE SAME REASON APPLIES.
8. IF SOME LOCAL GUY YELLS AT YOU FOR DROPPING IN, SIMPLY SAY" I'M SORRY" AND THEN PADDLE AWAY. THERE'S NO NEED TO ESCALATE MATTERS. A SIMPLE APOLOGY WORKS WONDERS.
9. DON'T HOOT YOURSELF. WHY WOULD YOU DO THAT? LET YOUR FRIENDS OR OTHER SURFERS HOOT YOUR RIDE. DON'T YOU BE HOOTING YOURSELF. BE HUMBLE.
10. TO AVOID BEING ATTACKED BY A SHARK, ALWAYS SURF WITH SOMEONE WHO IS A SLIGHTLY SLOWER SWIMMER, OR PADDLER, THAN YOU.
11. YOU WILL FALL OFF YOUR BOARD. WE ALL DO. SO WHEN YOU DO, ALWAYS COME UP OUT OF THE WATER ,WITH YOUR HANDS OVER YOUR FACE AND HEAD. LOOSE BOARDS DON'T KNOW, OR CARE WHO YOU ARE, AND THEY WILL HURT YOU. PROTECT YOUR FACE AND HEAD.
12. PICK UP ANY TRASH YOU SEE. WHETHER OR NOT IT'S YOURS IS INSIGNIFICANT. THE BEACH BELONGS TO ALL OF US. KEEP IT CLEAN.

Ask About Our Amazing Catering
Cruises: 11:00am and again at 4:00pm
Departs: Marina Cortez (Harbor Island)
Cancellation policy: 24-hour notice needed for any cash refund
Advanced Purchase Required Cruises Sell out Quickly
Check Availability and Buy Tickets Online
Call Us Today: (619) 887-5443