Sailing Charters and Boat Tours in San Diego
Best Bachelorette Ideas San Diego
Why Not A Bachelorette Sailing Party?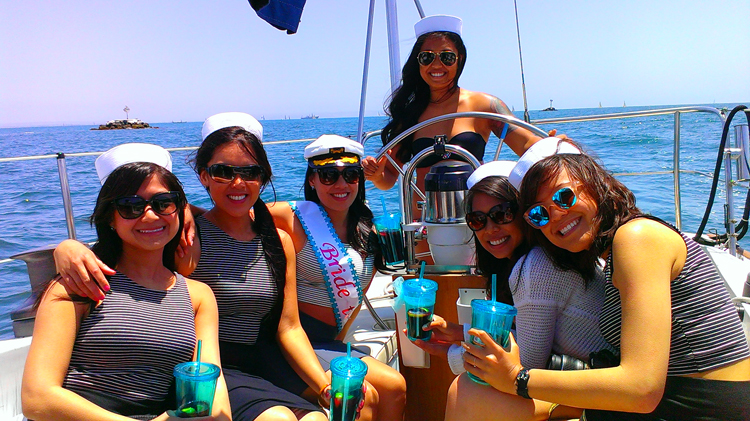 Okay, your best friend is getting married and it's up to you, The Maid of Honor, to figure out what you're going do for her bachelorette party. Whether you live out of town or just happen to live in San Diego, we have the perfect guide for getting it done and on the cheap. San Diego is known for its year-round warm weather, beautiful beaches, and best of all, sailing. So, take advantage the low airfares and create a Nautical Sailing Bachelorette Party.
Take some time away from all that wedding planning and take her and your bridesmaids out sailing on one of the top-rated sailing cruises in San Diego. Couple that with some great food and booze, and you have the perfect weekend bachelorette party on the water in Beautiful San Diego.

The Actual Bachelorette Sailing Cruise:
A Bachelorette Sailing Party is probably the BEST Bachelorette Party Idea of all time. Pacifica Sailing Charters makes it easy and inexpensive to throw your favorite bachelorette, the best party ever while keeping the cost down and staying within your budget.

Choose one of four beautiful yachts and relax with our low cost special pricing that includes the boat, Captain and crew, so you can spend time gathering all of your themed accessories for a fantastic day of sailing. You concentrate on the FUN. We do the rest.

Pacifica Sailing Charters Bachelorette Sailing Parties allow you to BYOB your own food and booze, so you save money, save time, and bring the Beer, Wine, and Champagne you prefer, instead of the cheap stuff the other guys serve. We concentrate on saving you time and money, especially when you have a wedding to plan and the money is tight.

What could be better than celebrating this special occasion on a beautiful sailboat, with beautiful people, enjoying the sun and salt air on the clear crystal waters of beautiful San Diego bay with your closest friends and bridesmaids.

Where to Eat Lunch
BYOB Your Food and Drink along with you | Why not pack some sandwiches, a deli platter and a case of Champagne and bring it along with you while sailing. We do all the work while you sit back and enjoy the warm salt air and beautiful scenery. And that's not all. You'll see amazing sights as you sail San Diego bay, like Navy ships, Sea Lions, Dolphins and incredible views of the city. Book a late afternoon cruise and enjoy a sunset most only see in magazines. No matter what your choice of times to sail, a Pacifica Sailing Charters Bachelorette Sailing Party is probably the BEST Bachelorette Party Idea of all time.

Pacifica Sailing Charters makes it easy and inexpensive to throw your favorite bachelorette, the best party ever while keeping the cost down and staying within your budget.
More information: http://pacificasailingcharters.com/pages/Bachelorette-Party.html
Where to Eat Dinner
Fiddlers Green - Shelter Island | Bring the bride-to-be and your posse to Fiddlers Green on Shelter island for a serious splurge. For more than 20 years, Steve & Debi Rock of Point Loma and their friends welcome you to one of the coolest Yachting Restaurants in town, where the best food and drink, and perhaps a touch of merriment, are offered nightly in one of the world's most renowned sailing ports. The seafood restaurant has redefined the ideal dining experience. Within minutes of your sailing charter and only minutes away from downtown and the San Diego airport, this showcase location ranges from the historic to the unforgettable, Fiddlers Green specializes in dazzling ambience, unique cuisine and exceptional service. From fresh fish specialties, succulent steaks and slow-roasted prime rib, the renowned chefs have tailored a menu that adds a unique touch to local flavors and affordable prices for that Bride to Be.
More information: http://www.fiddlersgreensandiego.com/
Sushiya - in Liberty Station | Located walking distance away from Pacifica Sailing Charters and the San Diego airport, and only 5- minutes from Downtown San Diego itself, SUSHIYA Point Loma is a premiere Japanese sushi establishment offering classic and exotic Japanese dishes from nigiri and sashimi delivered fresh daily to mouth-watering specialty rolls and entrees from the grill. This is where the locals go for incredible sushi and 30% less expensive than the "Fancy" places downtown. With tasteful music and high-definition television broadcasting marquee-sporting events, come on in and experience San Diego's best happy hour and sushi deals throughout the day and we guarantee you will leave sushiya with a smile! This definitely the best bang for your buck when it comes to sushi.
More information: http://sushiyafood.com/

Where to Crash
Okay, we say crash: if you're going to do this bachelorette weekend right, you should pick somewhere cool for you and the girls to stay, continue to party, and make the most of your time without having to pay for cab fare or Uber.

Here is one of our favorite spots in the San Diego / Shelter island area:

Bay Club – Shelter Island | Relax & unwind at our hotel on beautiful Shelter Island with waterfront views & spacious rooms. Proud recipients of the 2011-2016 TripAdvisor "Certificate of Excellence Award."

Make your getaway to the Bay Club Hotel and Marina and relax San Diego style. Their spacious, stylish guestrooms feature breathtaking views of the San Diego Bay, downtown skyline, Point Loma and our private on-site marina. Live it up San Diego style, being just walking distance from Fiddlers Green, only two miles from the airport and Pacifca Sailing Charters, and less than four miles from Ocean and Mission beaches.

You'll also appreciate their accommodating service, which is unrivaled in San Diego, as well as their generous amenities, like free Wi-Fi, an outdoor pool, private balconies or patios in each room and an on-site restaurant and bar. They are the San Diego hotel on beautiful Shelter Island that you have been looking for!
More information: https://www.bayclubhotel.com/
Let Pacifica Sailing Charters create the best bachelorette party while visiting San Diego
For additional information on Bachelorette Party Yachts and Pricing, please visit www.pacificasailingcharters.com/pages/Bachelorette-Party.html