Sailing Charters and Boat Tours in San Diego
Best Bachelorette Sailing Idea in San Diego
A Nautical Bachelorette Sailing Party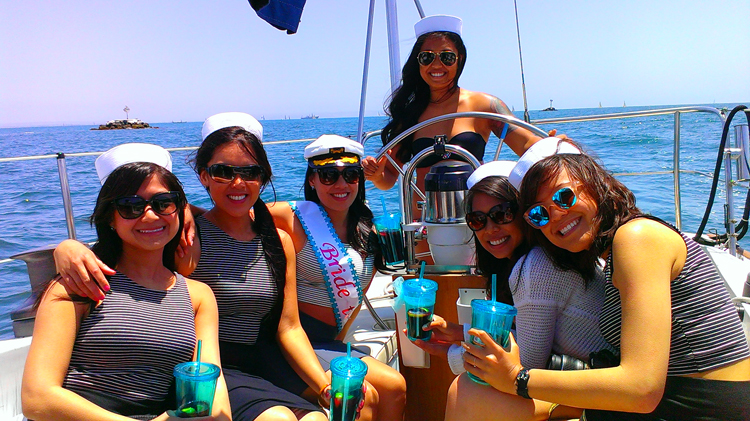 A Bachelorette Sailing Party is probably the BEST Bachelorette Party Idea of all time. Pacifica Sailing Charters makes it easy and inexpensive to throw your favorite bachelorette, the best party ever while keeping the cost down and staying within your budget.
Our low cost special pricing pays for the boat, Captain and crew, so you can spend time gathering all of your themed accessories for a fantastic day of sailing. You concentrate on the FUN.
Pacifica Sailing Charters Bachelorette Sailing Parties allow you to BYOB your own food and booze, so you save money, save time, and bring the Beer, Wine, and Champagne you prefer, instead of the cheap stuff the other guys serve. We concentrate on saving you time and money, especially when you have a wedding to plan and the money is tight.
What could be better than celebrating this special occasion on a beautiful sailboat, with beautiful people, enjoying the sun and salt air on the clear crystal waters of beautiful San Diego bay with your closest friends and bridesmaids.
Set sail with an experienced captain who knows exactly how to turn an average sailing cruise in San Diego Bay into the bachelorette party of the century. We make it fun, easy and affordable while providing your bachelorette the memory of a lifetime.
Forget the hassle of trying to decide on a theme, picking a place to party and getting everyone to show up on time. We take the guess work out of creating an exciting bachelorette event for your best friend. Make it fun, make it memorable, and make it the best bachelorette party ever by getting everyone together for a sailor bachelorette party and create a hassle free bachelorette sailor theme party today.
Let Pacifica Sailing Charters create the best bachelorette party while visiting San Diego
For additional information on Bachelorette Party Yachts and Pricing, please visit www.pacificasailingcharters.com/pages/Bachelorette-Party.html