A Burial at Sea is a way of having a
memorial and scattering the ashes
of a loved one at sea.


The Bachelor/Bachelorette parties we offer
are 100% customizable. Let us help you
customize it.


We offer a robust team building sailing
program to build camaraderie among
new or changing teams.
A Sailing Charter is an AWESOME Way to Spend the Day in Beautiful San Diego!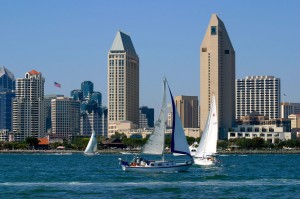 A Sailing Charter on San Diego Bay is an awesome way to spend the day sightseeing in beautiful San Diego. Pacifica Sailing Charters offers several different types of sailing charters and boat tours. Sail San Diego with us.
Our sailing charters and boat tours take you on an exciting tour of San Diego Bay. Book a sailing boat charter and stretch out in the San Diego sunshine with a trusty skipper at the helm, Choose from several types of yacht charters, catamaran cruises, sailboats, and powered luxury yachts. A sailing boat tour on San Diego Bay with Pacifica Sailing Charters is the perfect sailing experience for you and your guests. .
With over 20 years of boating on San Diego Bay and the waters surrounding the San Diego harbor, our boat charters and sailing boat tours are rated #1 on Google, Yelp, and TripAdvisor...
Sail San Diego with us. We excel at ensuring each sailing tour is a memory you will cherish for a lifetime.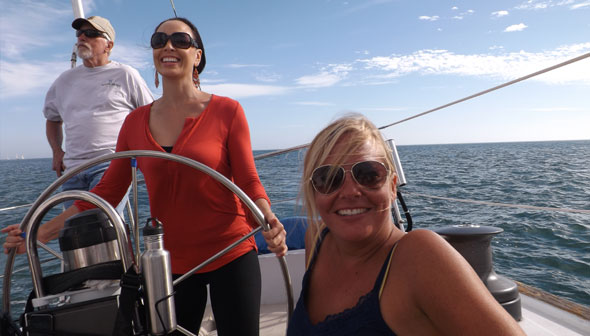 Our sailing charters and boat tours allow you to enjoy breathtaking views of downtown while relaxing on your own private yacht. Take a sailing lesson and explore the naval base, aircraft carriers, destroyers, and submarines, not to mention an incredible abundance of sea life including Sea Lions, Dolphins and Whales.
Whether you need a classic yacht for your corporate event, a sailing lesson, a bachelorette sailing party, or a burial at sea for a loved one, we can provide the perfect sailboat rental or sailing tour for your private parties, proposals, anniversaries, birthdays, ash scatterings, or simply a romantic sunset sail.
We've added a fantastic new 32′ sailing catamaran for your harbor excursions should you feel the need to bring more friends and have a stable, fun, and exciting party. This catamaran is roomy, stable, and can fit up to 10 guests for a remarkable cruise around the bay or beyond. This catamaran can be used for private parties, surfing trips, private birthday parties, Bachelorette parties, burials at sea or just a meandering cruise around the bay. We take the time to insure your cruise is the best in town.
We've also added a sleek new 45′ Sea Ray Express 400 power yacht for your harbor excursions should you feel the need for speed.
Our 55-foot custom designed steel hull twin masted ketch is stable and strong, yet sleek and smooth at sea. Along with Captain Jack and our crew, we welcome you to take part in hoisting and trimming the sails, steering through the entrance of the bay, or sit back, relax, and soak up the sun and scenery.
Ready for a REAL ADVENTURE in Sailing? America's Cup sailing aboard Stars & Stripes in San Diego. Pacifica Sailing Charters and Sailing Tours offers The Most Exciting Sailing Experience on San Diego Bay. No longer do you have to be a billionaire or a professional sailor to experience the thrill of sailing San Diego Bay on an authentic America's Cup Class racing yacht!
Need to accommodate an even LARGER party or wedding?
Designed by renowned catamaran designer Kurt Hughes, our large Catamaran is a 58' Catamaran with a 32' beam. Sails are approx.. 1500 sq. ft. without spinnaker. She is US Coast Guard licensed for 48 people, plus crew. We are certified to sail in the open ocean, most charter boats have to stay within the San Diego Bay.
If you want to leave the harbor, you can head past the tip of Point Loma toward the Coronado Islands. View the massive kelp beds, which lie just off of the Pt. Loma lighthouse. San Diego provides perfect sailing year-round, although in the winter and spring months, you'll want to bring a jacket or sweater after the sun goes down.
Cruises: 11:00am and again at 4:00pm
Departs: Marina Cortez (Harbor Island)
Cancellation policy: 24-hour notice needed for any cash refund
Advanced Purchase Required Cruises Sell out Quickly
Check Availability and Buy Tickets Online
Call Us Today: (619) 887-5443